Warm Temperature Testing
Omega Sunroom VS Hot Plate!
Alright! lets see how our Omega Wall system stands up to a hot plate! And no, we are not cooking eggs today! We have set up a demonstration to show you all how well our wall systems perform against the competition. Even in extreme heats our Omega sunroom will keep you comfortable inside. As if a sunrooms didn't sound good enough already, you should also consider that they are a cost-effective and easy way to add both space and value to a home. Not only will you get added space at a fraction of the cost of standard construction, you will add a whole new dimension to your home! You truly owe it to yourself to see exactly what C-Thru Sunrooms of Northern California will give you in added value.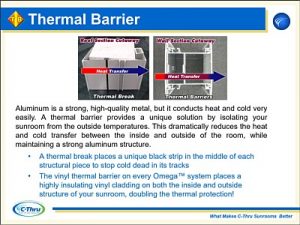 Cold Temperature Testing
Omega Sunroom VS Dry Ice!
Why choose a C-Thru sunroom? Well, for starters, we have the most thermally efficient enclosures on the market. Our sunrooms have the comfort level of a room addition when it comes to heat and cold transfer but at 1/3 of the cost to build! If you live in the Bay Area, Ca then you know the cost of living is high! Why not look into adding a sunroom addition and get the extra space you need. Take a look at the cold ice test below! We put our wall system on a block of dry ice at -22 degrees and as you can see our C-Thru Omega wall system dominates over the competition! Omega is resting comfortably and at room temperate upon the dry ice. True product excellence and performance!